CQI Communicator - Q1 2020 Issue
Share
Welcome to The CQI Communicator, a quarterly newsletter that brings you the latest in continuous quality improvement, project management, and tips/tricks to help you optimize your team's effectiveness, courtesy of your partners in Planning, Assessment & Innovation (PAI). Enjoy!
---
New Year, New Goals!
Welcome to a new year, a new decade, and a new edition of The CQI Communicator!
Many people like to start the New Year off fresh with resolutions so we thought we'd help by sharing ways you can apply continuous improvement principles to your personal and professional goals. This can sound overwhelming at first but remember to "K-I-S-S" (Keep It Super Simple.) One very simple way of approaching individual improvement is by utilizing Deming's time-tested method of PDCA—Plan, Do, Check, Act. Though PDCA (or sometimes also referred to as PDSA—Plan, Do, Study, Adjust) is typically considered a tool/method for improving business processes, it is an iterative cycle that focuses on incremental progress even in personal practices—small changes lead to big improvements over time!
"While PDCA / PDSA is an effective tool for businesses, you can also use it to improve your own performance. Identify what is holding you back in your career, and how you want to progress. Look at the root cause of any issue and set goals to overcome these obstacles (Plan). When you've decided on your course of action, test different approaches to getting the results that you want (Do). Review progress regularly, adjust your behavior accordingly and consider the consequences of your actions (Check [or also Study]). Finally, implement what's working, and continually refine what isn't (Act)."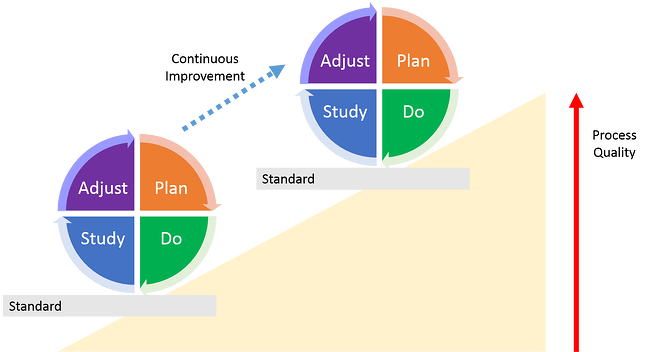 You can read more about putting the PDCA/PDSA technique to work for yourself at Mindtools.com. As a bonus, you can download this cool little template to use as you plan both your own personal and professional improvements (part of the CQI Online Toolkit—join to access more goodies!)
Did You Know…?
Dr. W. Edwards Deming was a pioneer in quality improvement and is credited with helping Japan recover after World War II.
---
The CQI Connection CoP Now Open!
The CQI Connection Community of Practice (CoP) is the next level of staff learning and engagement after completing the "Intro to CQI" online course, and is now open and available to those who want access to:
Peer discussions & support
The CQI Online Toolkit
Monthly process improvement webinars
A rich media library of photos, podcasts, videos, recorded webinars, and more
Sharing community ideas & feedback
Share process improvement successes + lessons learned
See others putting CQI to action
Visit the CQI Connection page on the PAI website to learn more and to request membership. (NOTE! — those who have already completed the "Intro to CQI" course have already been access, so come check out what all is in store!)
---
CQI 2019—A Year in Review
Here's just a short run-down of what CQI happenings occurred in 2019:
March 2019

2019 Inaugural Issue of The CQI Communicator

June 2019

Administrative Unit Review (AUR) Launch

August 2019

Announcement of the new CQI Connection Community of Practice coming soon
Announcement of the new "CQI In Action" photo gallery
Announcement of availability of new CQI Support Request Forms

September 2019

Announcement of the new online course, "Intro to Continuous Quality Improvement (CQI) at Wayne State"
Announcement of November 14 World Quality Day, 2019 Inaugural Event

November 2019

November 14, 2019, World Quality Day Event
Announcement of the World Quality Day/CQI Scavenger Hunt winners
Launch of The CQI Connection Community of Practice
Unveiled new interactive CQI Success Dashboard
Here's how we're looking forward to engaging folks in 2020:
Monthly CQI webinars focused on best practices for improving processes, using tools in our CQI Online Toolkit
Helping workgroups activate improvement ideas across campus, such as:
FP&M Design/Construction Services PI Implementation
Facilities Forward Re-Engagement
Streamlined Large Capital Request/Approval Process
Tuition Benefit process automation for dependents/spouses
Banner Chart of Accounts revamp
…and many more opportunities!
Stay tuned to The CQI Communicator for more in the coming months!